This is a good question because it has taken a lot of time and effort to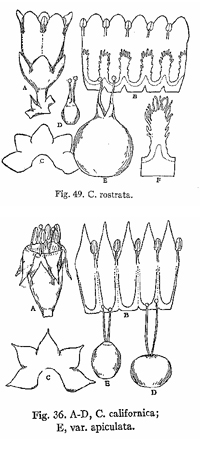 generate and make available these images online.
The only comprehensive source of iconography for Cuscuta was provided by Yuncker in 1932. His illustrations consist of simple line drawings of flowers, floral parts, capsules, and dissected corollas. Although in the case of this genus line drawings can be quite useful to indicate shapes and ratios between various floral parts, they are less informative for tridimensional parts, textures, fleshiness and thickness, cell-patterns on various surfaces, which are visible only in photographs taken at the microscope.
Cuscuta is like a piece of minimalist music. Evolution has created in dodders infinitesimally slow transformations and reiteration patterns which are reflected in these tiny morphological characters. One cannot hope to understand what a Cuscuta taxon is, and even less to identify it, without them. This is why for the first time, I am trying to show the real thing, and not only line-drawings.
So far we have only illustrated the basic morphology using an image fusion methodology that creates the effect of extended depth-of-focus. In the future we plan to add morphology details coming fresh flowers, Scanning Electron Microscopy (SEM), anatomy, as well as any other kind of visually encoded systematic information.